Liella! will hold an event on 2022 Sep 21 to celebrate the release of the Love Live! Superstar!! Season 2 OP and ED CDs.
Each CD includes one stream code and one code to apply to watch the event in person,
Official website: https://www.lovelive-anime.jp/yuigaoka/live/sp_2ndoped/
Basic Info
Session 1: 2022-09-21 (Wednesday), Doors 15:00 / Start 16:00
Session 2: 2022-09-21 (Wednesday), Doors 18:30 / Start 19:30
Venue: LINE CUBE SHIBUYA (was only announced once invitations to attend in person were sent)
Content: Talk & live performance
Performers: Liella! (9 members)
Duration: Each session will be about 1 hour 30 minutes.
Stream Info
This event will have a live stream. You'll need to buy the Season 2 OP and/or ED CD, depending on which session(s) you want to watch.
To watch Session 1: Buy the Season 2 OP CD, out 2022-08-03.
To watch Session 2: Buy the Season 2 ED CD, out 2022-08-10.
Archive available: 2022-09-22 18:00 to 2022-09-28 23:59
Streaming platform: MixBox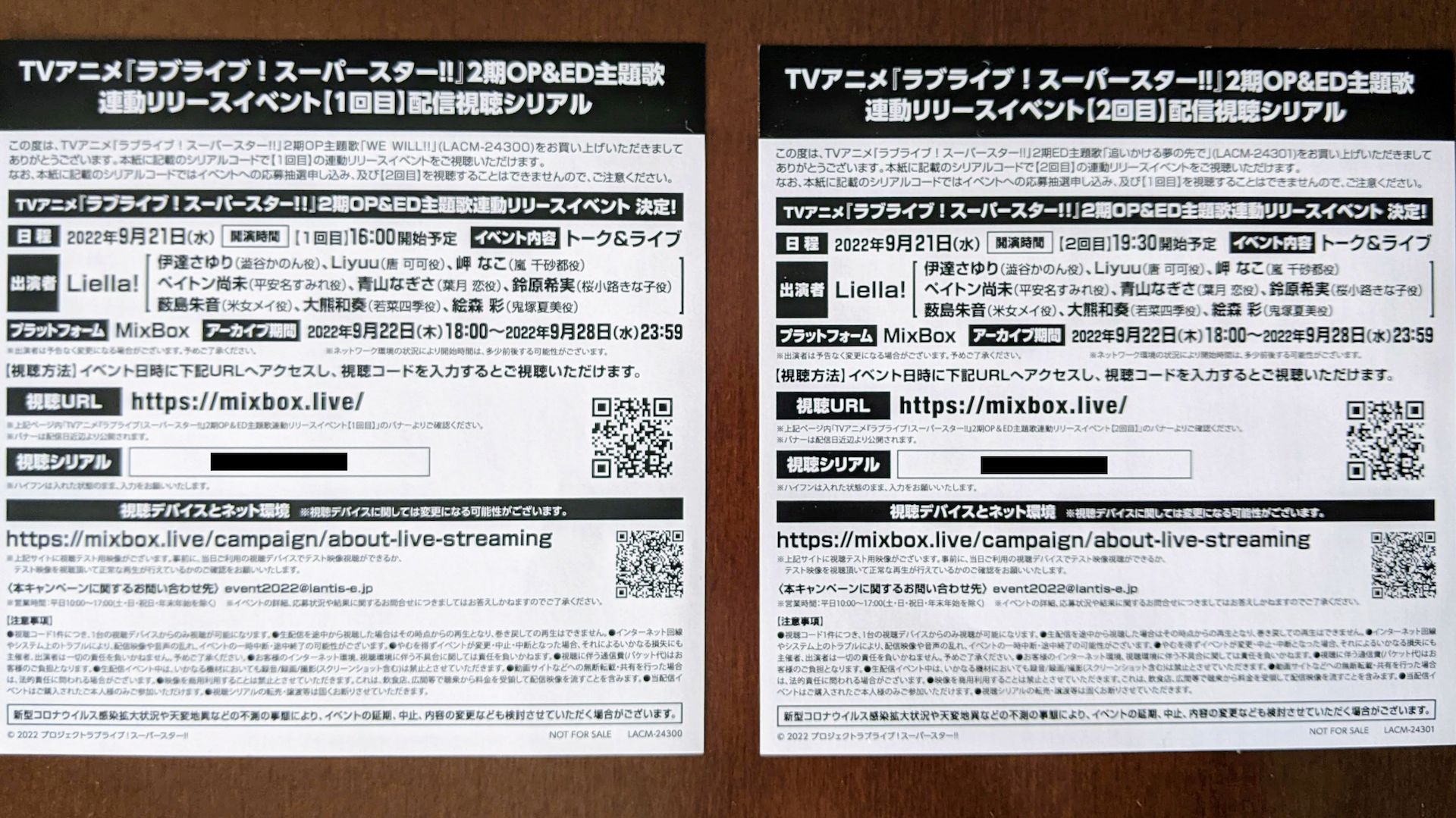 How to watch
Enclosed in the CDs are paper slips with a code you can use to redeem for access to the stream. These codes are separate from those to apply for in-person attendance, so be careful to enter the right one.
Get the applicable CD(s).
On the slip should be the URL https://mixbox.live. The Session 1 code should have 1回目 on the top and say 16:00 next to the date, while the Session 2 code should have 2回目 and say 19:30.
Problems watching the stream?
If the box to enter the code is not there: It should appear 1 hour before the event starts: 15:00 JST for Session 1 or 18:30 JST for Session 2. If your timing is right but the field still isn't there, try changing your device time zone to Japan time.
If you've entered the code but the video is a blank screen (or you otherwise can't access the stream): Try using a VPN to set your location to Japan.
Attending In Person
To attend in person, you'll need to enter a lottery and win an invitation. Each S2 OP/ED CD includes a code to enter the lottery (separate from the stream viewing code), and you need one OP code + one ED code to apply for one session.
Apply at: https://lantis-e.jp/LLSP2_OPED
Apply by: 2022-09-01 23:59
Winners will be sent an email on 2022-09-05, starting around 13:00 JST.
If you did not win, there will be no notification.
Want to order the CDs?
Warning if you're applying to attend in person: If you're overseas right now (at the time of writing, Aug 2022) and don't have residency in Japan, there's some chance you won't be able to get into Japan. Japan has been allowing in tourists from overseas starting in June 2022, but only for escorted tours. There is no information as to when unrestricted tourism from overseas may resume.
CDJapan ships overseas, and from personal experience (shipping to the US), items come fairly quickly if you order ahead and choose DHL/FedEx. Links to buy from CDJapan:
(I receive affiliate commissions from these links—these will go towards the server costs for this site.)