The basics
Screenings of Love Live! Fest are being held in several countries around the world, including Southeast Asia, Australia, North America, and Latin America. Check the Love Live! official website for details.
ONIBE's Aqours First LoveLive! Concert Guide covers the basics of concert etiquette and glowsticks/penlights. (Though it won't help you set your penlight colors for µ's/Saint Snow/NijiGaku.)
C&R (Call & Response)
Usually, each girl has a part of her self-introduction where you respond by saying something. We call this a "Call [what they say] and Response [what you say]".
I put together a quick C&R cheat sheet for all the groups at LL Fest.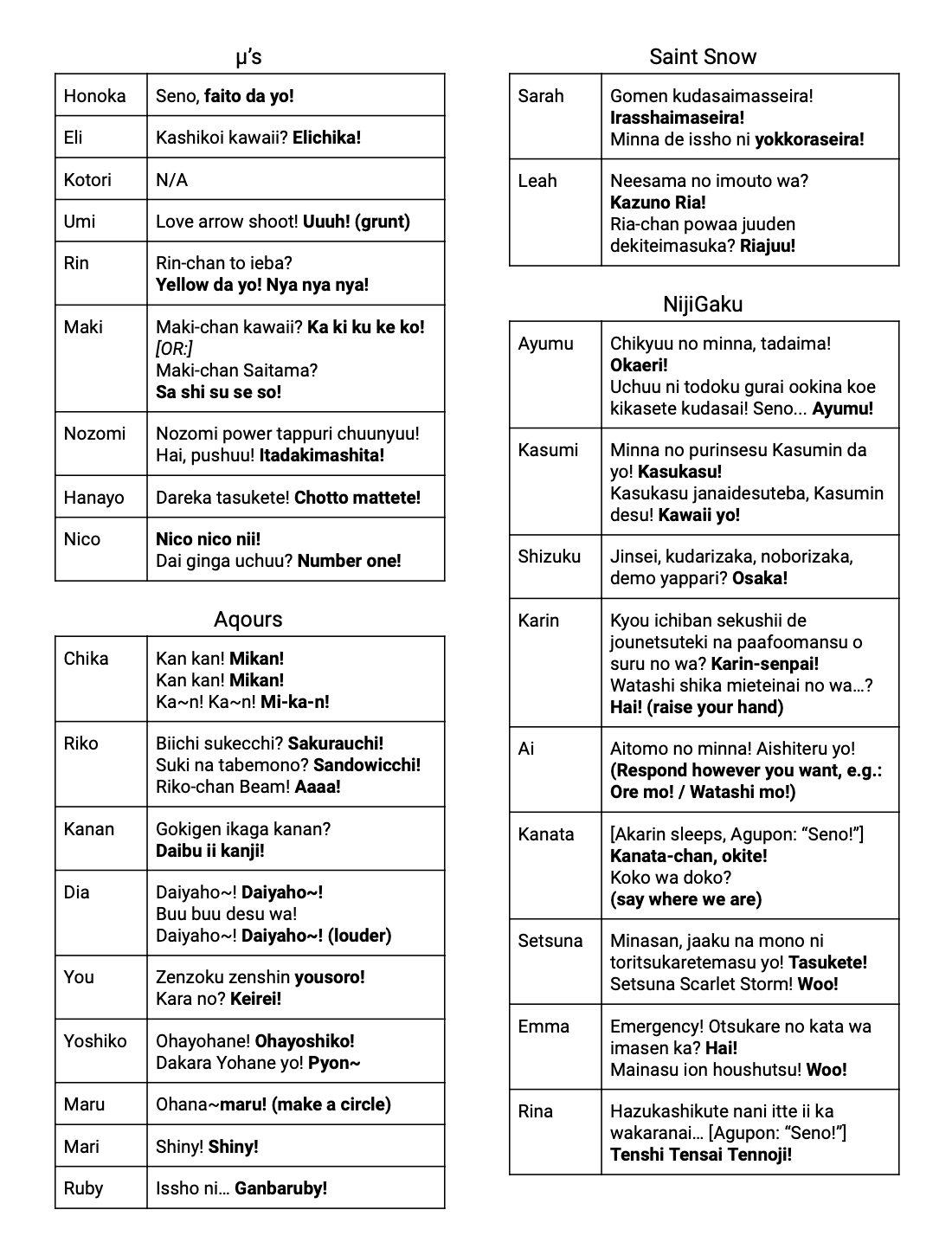 Call Guides
During many songs, the audience will often chant in unison (more or less) with the music. We refer to these as "calls", and a "call guide" compiles the usual calls for a song or multiple songs.
(Standard disclaimers: call guides do not dictate absolute rules, calls may change depending on the situation and audience, and it's totally fine if you're not up to speed on the calls for any particular song.)
Meguchii has compiled guides for µ's and NijiGaku (they include C&R too!), with links in these tweets:
For Aqours and Saint Snow songs, gacha4life and several other contributors have put together FuwaFuwaTime: https://nanodesu.moe/fuwafuwatime/
Setlist
Usually, the setlist isn't released before the concert. (Apparently this happens sometimes at other concerts? There's always someone who asks for the setlist before the concert and it really confuses me...)
If you'd like to see the setlist to prepare (or out of curiosity), Love Live! Wikia compiled it for both days of LL Fest.