Aqours will be performing an online countdown concert to ring in the new year!
Official website: http://www.lovelive-anime.jp/uranohoshi/sp_countdown.php
Logistics
Schedule
Day 1: 2020-12-30 19:00 (commericals will show starting at 18:00)
Day 2: 2020-12-31 22:30 (commerials will show starting at 21:30)
Both streams will be archived and will be viewable until Jan 7 23:59.
Notes
Important: Takatsuki Kanako (Hanamaru) will not be performing in the live part of either day of the event, but will be in the pre-recorded portions.
Day 1 camera angles will focus on the cast members' expressions and performance, while Day 2 will have more focus on how the performance synchronizes with the animation.
The two days' live performances are most likely different.
Part of the broadcasts will be pre-recorded footage.
There will not be live viewings in theaters.
Free Viewing
The beginning of each day's performance will be streamed for free, and the free part will start at the same time as the paid version.
Ticketing and Viewing (outside of Japan)
Online Stream
Price per day: 4444 yen, tax included
Buy tickets at:
The two sites have different availability by region, but reportedly they work even outside of those specified regions, so you may be able to watch even if your area isn't included.
Delayed Viewing
There will be a delayed viewing in Thailand on Feb 20-21 (originally Jan 30-31) at 14:00 on each day, at SF Cinema MBK.
Ticketing and Viewing (Japan)
Price per day: 4444 yen, tax included
Ticket sales are from Dec 19 10:00 to Jan 7 21:00, at
When buying a ticket, you have the option to get physical memorial tickets, which incur an additional shipping fee. They're scheduled to be sent in February.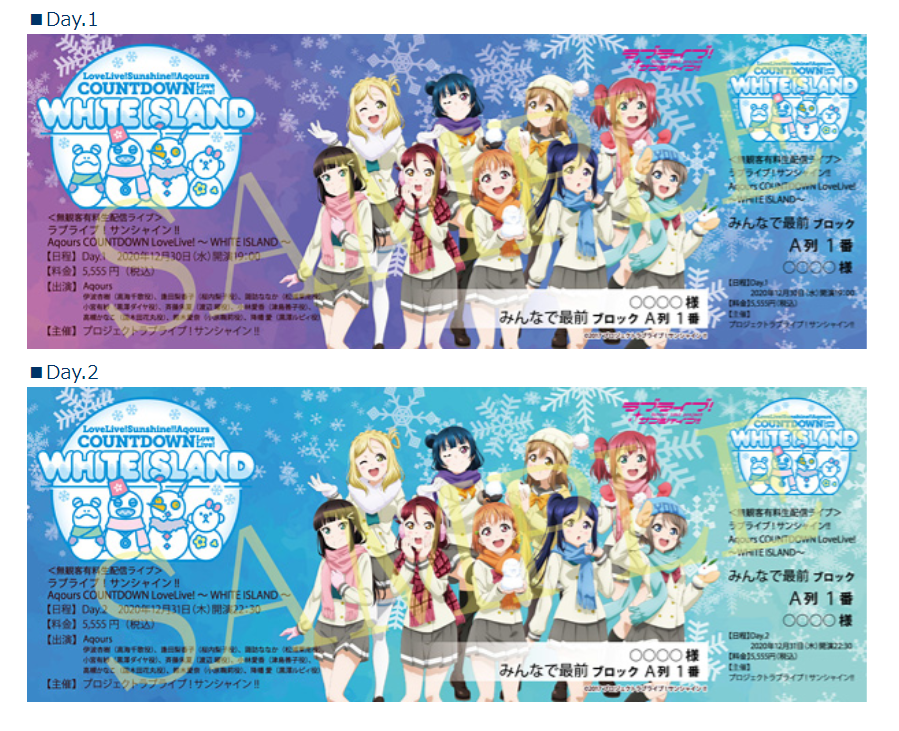 Merchandise Raffle
Event-exclusive merchandise will be raffled to JP ticket buyers. These need to be shipped to domestic addresses and thus are limited to the Japan-facing ticketing site(s).
When buying a ticket, you'll need to select "抽選に参加する" to enter the lottery.
Acrylic panel with all nine members' autographs (x5)
Acrylic panel (x30)
Sparkly sticker (x200)